3+ How to Fix Windows Script Host Access is Disabled on This Computer
Hukum96.com – How to solve Windows Script Host Access is disabled on this computer on Windows 7, 8 and 10. It's actually very simple, you just have to follow the tutorial below to fix the error message.
On this occasion, I will guide you in overcoming Windows Script Host Access which is disabled on this computer issue. Not only does this error message appear on computer devices, laptops or notebooks can also be infected with this error.
Basically, the error message that Windows script host access is disabled on this computer only appears when the computer or laptop has just been turned on. And reappears when the computer is turned off.
Unfortunately, the result of an error message that is not handled quickly becomes severe and displays a black screen, denoted by a black screen with a warning that Windows Script Host Access is disabled on this computer.
This is what the error you encountered looks more or less, along with the fully written error message.
Access to the Windows script host is disabled on this computer. You will receive further information from your administrator.
Then what steps should you take to resolve this error message? Please see the tutorial below.
How to fix Windows Script Host Access is disabled on this computer in Windows 7, 8, 10
Previously I explained that this Windows Script Host issue can cause black screen issues on our devices. Hence, at the end of this tutorial, I will discuss how to overcome the black screen caused by this Windows script host.
# 1 For Smadav users
But as I promised before, let's look at a simple tutorial to fix Windows Script Host Access is disabled on this computer.
1. Ensure that the problem you are experiencing regarding Windows Script Host Access is Disabled is correct. To be sure, please take a look at the picture below.
2. Then click with the right mouse button on the smadav logo in the task bar in the lower right corner. Please see the picture below for more details.
3. Then click Allow Windows Script Host and Macro (Forever) and select OK.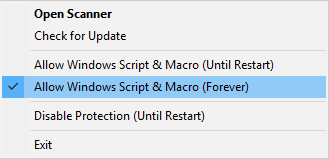 4th When all of these simple fixes are done, make sure you see a popup like the following. Its function is simple, which is to ensure that your device's WHS is turned back on.
At the end of this first tutorial, I can see that the smadav application basically disables this Windows Script Host function on purpose. But with this tutorial, I hope friends can follow it and get your device performing as usual.
# 2 use registry editor
For those of you who aren't using smadav, you can use this method. The method is pretty simple, you can use Registry Editor.
1. Press Windows + R on your keyboard.
2. Enter regedit and select OK / yes
3. Then enter the menu settings in this direction
HKEY_LOCAL_MACHINE Software Microsoft Windows Script Host Settings
4. Choose New
5. Select DWORD (32) bit value
6. Name it Enable
7. Right-click the Activate file and select Modify
8. Change the value data from 0 to 1
9. Save
10. Restart your laptop.
# 3 For users who are experiencing a black screen
For users who see Windows Script Host Access is disabled on this computer due to the error message, please refer to the method below. You can use this method to get your screen back to normal so you can follow the tutorial I wrote earlier.
First, make sure that your screen is just a blank black color, accompanied by the message Windows Script Host Access is disabled on this computer.
Second, please use the combination keys on the keyboard, namely Windows + R
Then a popup will appear and enter the following command: explorer.exe
Now the screen is back to normal and you can access the Explorer application.
The next step is to use one of the tutorials on How to Solve Windows Script Host Access on This Computer that I wrote above.
Remarks : Black screen users are expected to go through the third tutorial first. After you complete the third tutorial, you can only do the first or second tutorial.
The last word
If you have any questions, criticism, or suggestions about this article, please leave your comments below. Have fun reading other articles and don't forget to follow all of our social media accounts.
also read