Hard to catch? Here are 7 Hero Counter Fanny Mobile Legends
Hukum96.com – Annoyed because they get bullied a lot by fanny users? Stop it, don't be emotional! Because I'm going to recommend the 7 best Fanny counterheroes in mobile legends that you can easily use. Curious about the list of heroes? Check out the following article folks!
Who doesn't know Fanny? One of the most exciting Mobile Legends assassin heroes and definitely known to all MOBA players analogue. How is it not known? Like Nasi Padang, Fanny is packed in a super complete package. It's hard to use and hard to kill.
I am sure almost all players have OK annoyed by this hero. Especially when he meets professional Fanny, it feels like there is no longer any hope of victory. Flying here and there is like being killed at will. Very upset! It's our turn, whoever has the momentum to kill suddenly flies randomly forehead. Oh my God!
But calm down now behold you don't have to be upset anymore. Because as promised, this time I will discuss the list of heroes who can easily defeat Fanny.
But before that there have to be some things behold do you know this super agile hero. If I understand this information, I guarantee that the fight against Fanny will be even easier.
First, Fanny is a heroine who really needs it polishing. Unlike most heroes who consider buffs to be an additional need, Fanny Buffs make it mandatory. Without the buff, 8 wires will consume the energy that Fanny has. So never let a fanny steal the buffs you have!
Second, Fanny can only be stopped by numbing, immobile and also silence effects. Hence, choosing a hero counter will not be far from these two criteria.
The 7 best Fanny Counter heroes in Mobile Legends
Chufra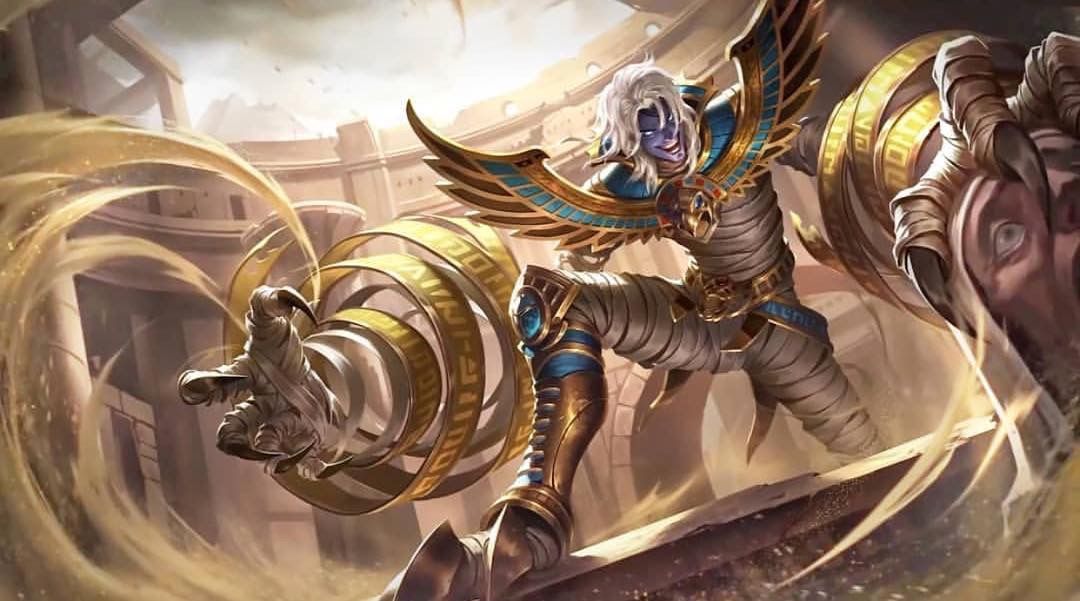 I am sure that all Mobile Legends players will agree with this recommendation. This versatile tank, whose all abilities can thwart the opponent's abilities and create a slow effect, will be a terrifying specter for Fanny players.
Khufra's ball not only crosses Fanny cables, but can also reflect Fanny, who likes to fly here and there. This ultimate hero can also give affected players knockup and stun effects.
It could be said that this khufra was deliberately portrayed as Fanny's natural enemy. Unfortunately, the existence of Khufra's selection in rank mode is very unlikely. Based on the admin's predictions, Khufra is still a hero in the upcoming 13th season and continues to be banned considering all of his skills are really annoying.
Dyroth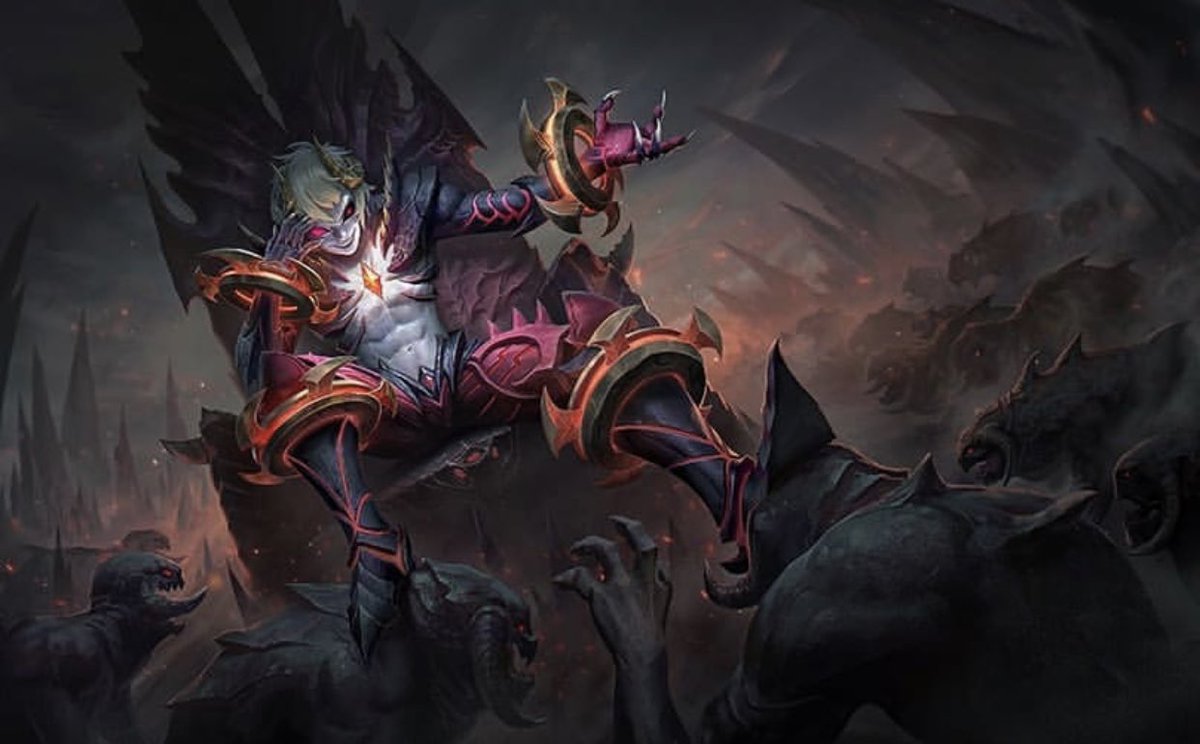 Since this article was published, this hero is not even a week old, aka just appeared on the original server. But even so, its existence is a terrifying specter for Fanny players.
Skill 2 of Dyroth can trigger a knocking and stun effect in a few seconds. This is certainly very harmful to Fanny.
saber
As one of the heroes, often referred to as a pure counterattack, Saber really shouldn't be underestimated folks! While his abilities aren't as painful as Gusion and Lancelot, his Ultimate is very effective at killing thin-blooded heroes. Like shooters, magicians and also assassins, including Fanny.
So don't be surprised, every time the arena competition takes place, Saber becomes the main hero when the enemy chooses Fanny. So far there is only one hero who can cancel the Ultimate Saber, namely Ultimate Diggie. Actually, Nana and Kagura can block the ultimate saber as well, but it's less effective now.
Read more interesting articles:
Not only Ultimate, Saber's first ability can also be used to repay Fanny's blood if she stays away from Saber. When Fanny uses immortal objects, behold shouldn't rush to use Ultimate to catch Fanny. Wait for it to die, then use Ultimate. Or, if you think this tactic is taking too long, you can replace this tactic with purchasing Berserker's Fury items.
Nana
Since Nana has been reworked or changed, her ability to capture high mobility enemies, including Fanny, has become more effective. You may still not believe that Nana has the ability to stop Fanny.
But don't forget the power of Molina folks!
Yes, Nana's second ability, commonly referred to as Molina petting This is, in fact, seen as a nuisance to your opponents. With this ability, Nana can throw a mini dragon named Molina who is ready to chase and curse opponents who approach her.
The way to use Nana's second ability to be effective against Fanny is to point Molina in the direction of Fanny's movement. If you want to surprise her, you can put Molina on the grass or on the streets that Fanny will be walking. By the time this article was published, the author was using Nana against Fanny and it really worked.
But one thing you have to remember: Nana is not a makrsman or fighter that Fanny can kill on her own. Nana is just a support so you have to fight Fanny with your friends. Don't let Fanny kill you, use Molina to protect yourself in danger.
Aurora
In fact, I also recommended Aurora in the Counter Alucard article I wrote earlier. As a professional hero Crowd control, Aurora is effective when used to regulate the rhythm of opposing play.
With the passive power of Aurora, he can stop Fanny while he flies here and there. Any skill issued by Aurora will be automatically completed Freezing energy what will create the effect Freeze against the affected opponent.
With effect Freeze You can stop Fanny's steps by freezing her. If Fanny is flying around you, you can use Skill 2 to freeze Fanny instantly. But when Fanny comes with other enemies and the energy seems to be running out, Ultimate Aurora can freeze the area you want.
Akai
Until the Chang'e hero is officially launched Original server, no hero could stop the ultimate of an Akai. It turns out that Akai's Ultimate can not only cancel Kagura's Ultimate, Lolita and Odette, but can also add a silence effect to the opponent he is exposed to.
While a bit of a chore, Akai can also be used to trap Fanny. First give Fanny a sign (frog sign) using Skill Two. Then use Skill One to give Fanny a stun effect.
Don't forget to use stunning items to keep Fanny from flying. After that, you can use your ultimate ability by circling Fanny and pushing it towards the rocks.
Don't worry if Fanny creates a tornado effect because using Ultimate Akai means Fanny will automatically be affected by the Silence Effect. This means that Fanny cannot develop all the skills she has.
Hayabusa
Do you remember the phenomenon that Hayabusa's hero was permanently banned during the fifth season? Well, it turns out that ninjas like Hayabusa can become Counter Fanny in Mobile Legends.
Just like Saber, Hayabusa's Ultimate cannot be broken. If the Ultimate hit it, all we can do is wait for Hayabusa to use his Ultimate.
And you must know that Hayabusa's Ultimate is very sick folks! Especially when you are using build hayabusa correct at the latest. Heroes in the role of assassin, magician and rifleman can die instantly with just one attack.
You can take advantage of this privilege when you meet Fanny users. Go to Fanny first Quad shadow (Skill 2) that he has. If you start to get overtaken, don't hesitate to throw a shuriken for a slow effect. Approach Fanny and give her the ultimate ability to defeat Fanny.
The last word
This is the article on Fanny's list of hero counters in Mobile Legends. Hopefully this article is useful and don't forget to check out some of the other Mobile Legends articles!
Last updated: July 01, 2021
+ Heroes recommendation list added
+ Repair links
+ Repair items
+ Image correction